"JACKS"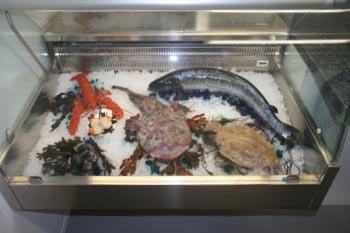 We have a small shop area in our new premises where customers can come along and select their fish and hopefully try some new varieties.
Ann, the cook in the team, will advise customers on how to best cook their fish and will be happy to lend one of her huge collection of recipe books to customers.
On Wednesday and Saturday nights "JACKS" our fish and chip shop will be open 5pm - 9pm for takeaway. We will be serving a large selection of fish plus all the regular local chip shop items, according to season and availability. We are also proud to offer 'Betty Humes' mince patties, handmade on the premises.
Download the Opening Times and Price List for Jacks so it is handy when you want to order.
There will also be a selection of homemade dishes suitable for vegetarians.
"JACKS" is open on Wednesdays & Saturdays: 4.30 to 7.30pm
Visitors out for a day could enjoy fish and chips to take away and eat on the boat back to Kirkwall. Ring ahead (01857 677471) to place your order and collect en-route to the Ferry Terminal.